(Last Updated On: July 15, 2016)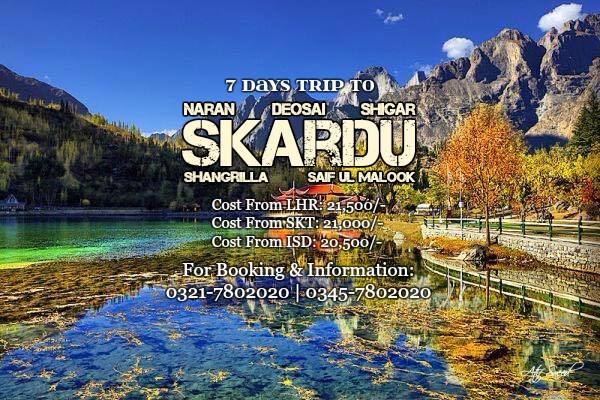 7 Days Trip to Skardu‬,‎Deosai‬‪,Naran‬,‎Saif-ul-Malook
Trip Details: www.facebook.com/events/1956518054574444/
~Package From ‪#‎Lahore‬: 21,500/-
~Package From ‪#‎Sialkot‬: 21,000/-
~Package From ‪#‎Islamabad‬: 20,500/-
Attractions:
Shangrila Resort Skardu "Heaven on Earth"
Shangrila Resort Skardu, also known as "Heaven on Earth", is nestled amongst some of the world's highest peaks. It encircles the heart shaped "Kachura Lake" and is surrounded by fruit laden orchards and flower filled gardens.Shangrila Resorts Skardu offers 60 spacious rooms which are uniquely designed to include luxurious amenities.All our cottages have private balconies over looking the Kachura Lake.
A vacation spent at Shangrila Resort Skardu is a once in a lifetime experience that one would want to relive again and again. Located at a height of 2500 meters, this area is more commonly known as "The Roof of the World". Due to its natural beauty, the first impression of Shangrila is of a Fairyland.
Shangrila is the only private company which has recognized the great potential of Tourism and has received the 19th International Award for the best Tourist Resort and is recognized as Pakistans Landmark to the world.
Shangrila Resort Skardu Video Promo: