(Last Updated On: February 23, 2018)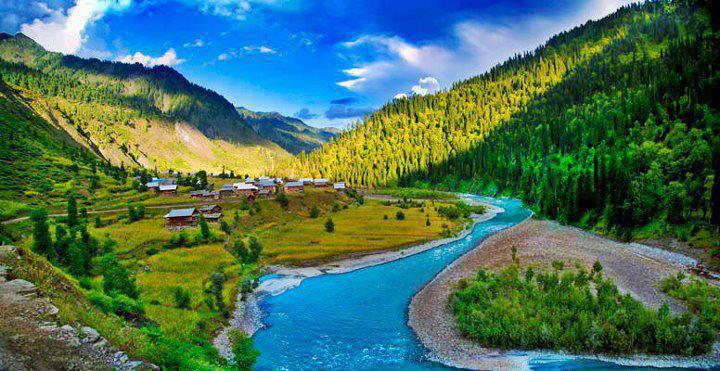 Neelum Valley is known as the blue gem of Pakistan, Neelum Valley situated in Azad Kashmir of Pakistan in the northern areas of Pakistan. Neelum is one of the best destinations to visit for honeymoon couples to spend there honeymoon time in the beautiful location of Pakistan, also its the best place for the group tours to have it for the friends, families and students. I am going to tell you the about the best destinations to visit in Neelum Valley.
Neelum Valley Azad Kashmir Pakistan
One of the most beautiful traveling spot for tourists to visit once in a life is Shounter Valley. This valley is still unknown to most of the travelers. It lies in the upper neelum valley of Azad Kashmir Pakistan. This valley is reachable by 3 hours jeep track from Kel. There is no accomodation for travelers in shounter valley as it is not discovered yet so camping is the main source for tourists. There are a lot of traveling that one can visit of trek to in shounter valley like Shounter Pass, Chitta Katha Lake, Shounter Lake and many more. One can also reach Astore valley by going through shounter pass.
Taobut Taobut is the tourist destination and last point of Neelum Valley Azad Kashmir Pakistan, from where the Indian occupied Kashmir starts. It is the most beautiful location to spend time with your loved ones surrounded by the beautiful greenish peaks and wood with the dark blue water river. River Krishen Ganga from Kashmir of India enters to Pakistan from this valley. There are many unexplored destinations which are still to be discovered, Taobut is one of them. For about 6 months, there is heavy snowfall in the region.
Arang Kel Arang Kel is the most visited and preferred tourist spot while traveling to Neelum Valley. It is basically a hill top above the Kel Valley. It can be reached by jeep track and also by hiking from Kel Valley. There is heavy snowfall during winter season and jeep can not reach there in winter, so tourist have to go there by hiking. Arang Kel is one of the most beautiful and picturesque valley with lush green mountains all around.
Sharda Valley Sharda Valley, one of the best and most visited valley in Neelum Valley Azad Kashmir Pakistan. Kashmir is well rich in history. Sharda Has a lot of tourist sites to offer as well as many historical destinations like Sharda Fort, Ruins of Sharda University. This was one of the best learning spot for the Hindu and Buddhists for many centuries in history. This valley is accessible all of year even in snowfall. Sharda offers tourists with mesmerizing views of Neelumriver with the valley.
Best Lakes of Neelum Valley
Chitta Katha Lake Lies at an altitude of 4,100 m, Chitta Katha lake is one the best lakes in Neelum Valley Azad Kashmir. It is located in the unexplored Valley of Shounter. The Name Chitta Katha given to it because of the stream coming down from Hari Parbat making it the lake of mountians called Chitta Katha Sar. It is the local name meaning "White Stream" and titled it after the name of stream.
Ratti gali Lake One of the most visited lakes in Neelum Valley Azad kashmir Pakistan, Ratti Gali Lake is famous for it beauty surrounded by the white mountains and beautiful wild flowers around. It is reaachable through Dowarian by hiking of 19 km. The views around the lake and on the hiking trails will mesmerize tourists and make it there special destination of all time.
I hope this informational article will attract you and force you to visit these destinations and will help you to get these sites on your list while traveling to Neelum Valley of Azad Kashmir Pakistan.