The capital of the Azad Jammu & Kashmir is situated at the confluence of the Jhelum & Neelum rivers. It is 138 kms from Rawalpindi and about 76 kms from Abbottabad. The present name of Muzaffarabad has been given to it after the denomination of Sultan Muzaffar Khan, a chief of Bomba Dynasty (1652). There are two forts, namely, Red & Ebony Fort, situated on the antithesis sides of river Neelum. The Neelum river streams through the town, joins river Jhelum at Domel and plays an ascendant role in the micro climate of Muzaffarabad.Places of interest in and around Muzaffarabad are: Pir Channasi, Shaheed Gali and Patika.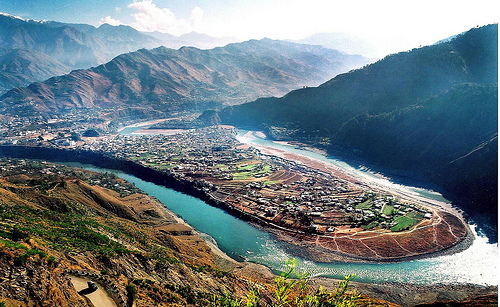 How to Reach ?
By Plane
The small domestic airport is currently not receiving flights.
By Road
Buses and minibuses make the scenic journey regularly from Islamabad (4-5 hours).
If you're self-driving, the route via Murree is probably the quickest. Kohala is the entry point into Azad Kashmir, where you'll need to get through a checkpoint.
On your own transport you need an hour minutes to reach Murree. After Murree the road becomes thin and winding (and very scenic). Give yourself 2 hours to reach Kohala Bridge and another hour to reach Muzaffarabad. Its approximately 4 hours in your own car. The road is in the process of repair/upgrading so there are slow, unpaved and bumpy sections. Driving this route in daylight, especially for your first time, is highly recommended.
You can adopt the route Islamabad – Abbottabad – Mansehra – Gari Habibullah – Muzaffabad as well.
What to see ?
Muzaffarabad FortThere are two historical forts on opposite sides of the Neelum River. Red Fort and Black Fort The construction of the Red Fort was finally completed in 1646 by Sultan Muzaffar Khan, the founder of Muzaffarabad city. After the Mughals took over Kashmir, the fort lost its importance. The Mughals were more interested in Kabul, Bukhara, and Badakshan. During the period of Durrani rule, however, the fort again once again assumed its importance. Maharaja Gulab Singh and Rambir Singh, the Dogra rulers, reconstructed and extended the fort for their political and military operations. Towards the middle of 1947, the Dogra forces left, leaving the fort abandoned. The architecture of the fort shows that great experts in design and structure participated in its construction. It is surrounded on three sides by theNeelum River formally known as the Kishenganga River. The northern part of the fort had terraces with steps leading to the bank of the river. The eastern side was very well protected from the hazards of flood waters, but some parts on the north side have suffered damage. There used to be an inn at the entrance to the fort, but only traces of that structure remain now.
Pir Chinassiis located eastward of Muzaffarabad. Due to its scenic beauty, velvet green plateaus and wonderful climate, it wins admiration of nature lovers. The view of the summit of the mountain peaks spell bounds a tourist. Devotees of Saint Shah Hussain Bukhari, take pilgrimage to rejuvenate their adust heart. The adjacent Pirchinassi, phawna da Danna and the areas in the bottom of Pirchinassi are also worth seen and ideal for hiking, trekking and camping activities. Tourism Department has also constructed a tourist lodge at Saran.
Shaheed Galiis situated at the height of 1640 meters above sea level at a distance of about 16 kilometers westward from Muzaffarabad. From Shaheed Gali a trek of 4 Kms leads towards a spot namely "Sri Kot". A tourist is bound to be fascinated by the serenity for the backdrop of the area. A tourist Rest House is available for accommodation at Shaheed Gali.
Patikkais ;ocated at a distance of 19 Km from Muzaffarabad, is a gateway to Neelum valley. There is also A mini zoo and a fish hatchery. Tourism Department has constructed a Tourist Rest House here, which is very popular among tourists.
Buildings: AJK Assembly, AJK Supreme Court, Mosque Assembly Secretariat, Kh. Khurshid Tomb
Chehla Bridge
Subri (Langarpura) Lake
Kundle Shahiis 74 Kms from Muzaffarabad. Here, silvery stream joins river Neelum, where trout fish is found abundantly.
Chikkaris a beautiful summer station at a distance of 46 Kms from Muzaffarabad on top of the mountain. The outstanding features of this beautiful place are its climate and sceneries. 10 Kms from Chikkar is another worth seen hill station in the middle of dense green pine forests and is linked by a fair weather road.
peerchanassi vally guest house is also in area of peerchanassi which give a beautiful seen to tourst., buttlian peerchanassi
What to Do ?
You can indulge in different activities like hiking, trekking and camping at the foothill regions of the Pir Chinassi, Saran, Sun Bun, Muskhi, Sakki and Jarran.
What to Buy ?
Handicrafts: Carpets, silk woolen clothing, woolen shawls, wood carving, Papier Mashie, rugs
Other products and fruits: mushrooms, honey, walnuts, apples, cherry, medicinal herbs & plants, resin, Deodar, Kail, Chir, Fir, Maple and Ash Timbers etc.
What to Eat ?
The Pearl Continental has Chinese & Continental restaurants (with amazing views). Neelum View Hotel (which is no longer a hotel) has a nice terrace and OK food.
Pakistani and Kashmiri food is available everywhere. Many restaurants offer Chinese and Italian dishes as well.
If you are tourist here, please go to some reputed restaurants and ask what is freshly cooked.
Chicken Karahi is a dish recommended for Pakistanis and Kashmiris as it can be cooked easily and one can see this being cooked.
Kashmiri Nan are wonderful in taste.
Try Kashmiri Pink Tea. You can take Kashmiri Kulcha as snack. Kashmiri Kulcha is different from Kulcha sold in Lahore or Gujranwala.
If you have time and money, try typical Kashmri Dishes like Goshtawa, etc. (but its hard to find the real thing). Goshtawa can be found in Kashmiri bazaar. Its in the middle of the city. You can reach there by taking a route of Upper Adda near AJK University or through Famous Madina Market. you can also find above mentioned Kashmiri tea, Kulcha & Kashmiri Bakar khani at same place.
What to Drink ?
Please drink bottled water (locally called mineral water). Its avaiiable in half, one and 3 litres bottles.
Soft drinks like Coke, Pepsi etc are also available.
Wine, etc. is not available as Pakistan is an islamic country, however alcohol can be unofficially purchased by slipping money to the right people at hotels.