(Last Updated On: August 19, 2016)
Fairy Meadows Tour Package 2016: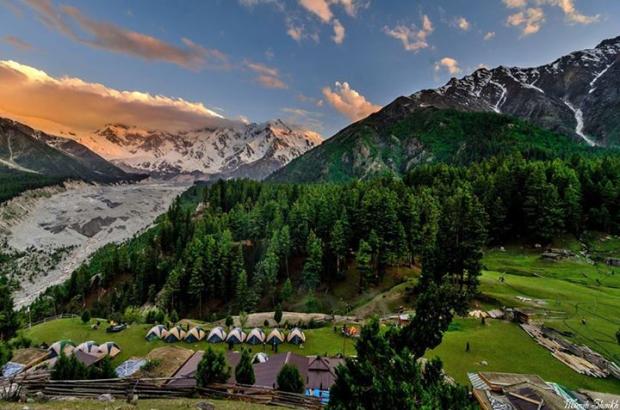 Pakistan Tours Guide offers great Fairy Meadows Tour. Fairy meadows tour package 2016 is going to be very famous as we have been sending sundry groups and families to resplendent fairymeadows. Fairy Meadows is a lush green meadow on the north side of Nanga Parbat (elevation 8,126 metres (26,660 ft) 9th highest in the World and 2nd highest in Pakistan), a few kilometers south of the KKH and the Indus River in the Diamer district of Northern Areas Pakistan. This legendry name Fairy Meadows is sempiternal gift of a German tourist Willy Merkl to the local people, local name of Fairy Meadows is Fantori.
Top 10 Pakistani tourist spots you must visit in 2016 
Nanga Parbat is a Persian word, which designates Unclad Mountain, Nanga Parbat is withal called the "Killer Mountain" as more then 40 climbers have lost their lives endeavoring to surmount it during expeditions and locals call it Daimoryi, which is the cessation of Himalaya. Most tourists who come to optically discern Nanga Parbat stay at Fairy Meadows, which is at an elevation of 3,300 m (10,827 ft). On the route to the meadow lie two minute villages, Tatu/Jhel and Fanturi.
| Detail Itinerary |
Five Days tour plan from Rawalpindi/Islamabad for Fairy Meadows in Diamir:
Day 1:   Rawalpindi to Chillas in Air conditioned Convey. Overnight Stay in Chillas Shangrila Hotel or Panorama Hotel
Day2:   Early Breakfast, then leave for Roykot Bridge. Roykot to Tattu on Jeeps. Four Hour Trek to Fairy Meadows.  Overnight stay in Fairy Meadows (Camping)
Day 3:  Day Excursions in Fairy Meadows ( Trek to Nangaparbat Basecamp with our experienced guide )
Day 4:  Fairy Meadows to Chillas. Overnight Stay in Chillas
Day 5:  Chillas to Rawalpindi Via Babusar top and Naran Area.
=============================================
| CONTACT DETAILS |
============================================
Contact us: 03338746430 (Ali Khalid)
For Upcoming Events Plz Visit