Shrine of Data Ganj Buksh
Data Darbar is the shrine of Hazrat Syed Abul Hassan Bin Usman Bin Ali Al-Hajweri, the famous Sufi saint of Iran, where hundreds of thousands of people come each year to pay their respects and to say their prayers. The large complex also includes Jamia Hajveria, or Hajveri Mosque. Hundreds of thousands of people come each year to pay their respects and to say their prayers.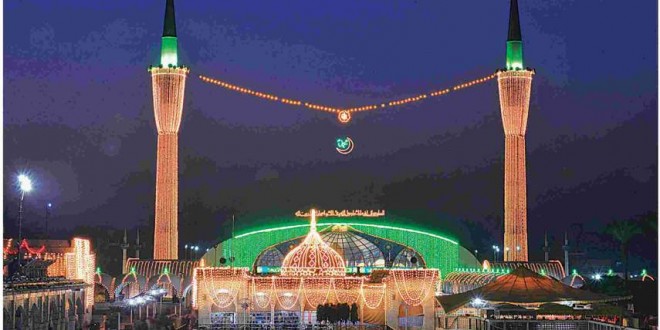 Abul Hassan Ali Ibn Usman al-Jullabi al-Hajweri al-Ghaznawi or Abul Hassan Ali Hajweri (Arabic: علی بن عثمان الجلابی الهجویری الغزنوی ) (sometimes spelled Hujwiri), also known as Data Ganj Bakhsh (Persian/Urdu: داتا گنج بخش ) or Data Sahib, was a Persian Sufi and scholar during the 11th century. He significantly contributed to the spreading of Islam in South Asia.
He was born in Ghazna (in present day Afghanistan) in the beginning of Ghaznavids period (around 990) and died in Lahore (in present day Punjab, Pakistan) in 1077 CE. His most famous work is The Kashf Al Mahjub ("Unveiling the Veiled") written in Persian language. The work debates Sufi doctrines of the past.
Hujwiri belonged to the Junaidia school of Sufism. These sufis followed Junaid Baghdadi of Baghdad. Hajwiri is also viewed as an important intercessor for many Sufis.
Hujwiri probably entered the Sufi path very early in his life and spent many years travelling to Iran, Iraq, Syria etc, during which he met several Sufi saints. He studied Sufism under Abu'l-Fadl Muhammad b. al-Hasan al-Khuttali through whom he is spiritually connected) with Junaid Baghdadi.[2]. He settled for some time in Iraq where he had a short experience with married life. Finally he was taken as a captive to Lahore[3], where he spent the rest of his life and compiled the major portion of his book, The Kashf Al Mahjub.
Although a Sunni Hanafite, Hujwiri's theology was reconciled with the concept of Sufi annihilation. However he strenuously campaigned against the doctrine that human personalities can be merged with God, instead likening annihilation to burning by fire which allows the substance to acquire fire like properites while retaining its own individuality. He also was a great upholder of the Sharia and rebuffed the idea that outward observances of Islam are not important for Sufis. Hujwiri believed that individuals should not claim to have attained "marifat" or gnosis because it meant that one was prideful, and that true understanding of God should be a silent understanding
It has a been a practice of Sufi saints coming to the Indian subcontinent to first visit the shrine of Hazrat Usman Ali Hujwiri. Hazrat Khwaja Muinuddin Chishti first came to Lahore to pay his respects at Data Ganj-Bakhsh upon his arriving in the subcontinent. There he was directed to settle in Ajmer Sharif and commence his spiritual mission in India. Hazrat Moinuddin Chishti paid homage to Hazrat Usman Ali Hujwiri in the following words
Ganj Bakhsh-e faiz-e aalam, mazhar-e Nur-i Khuda
Naqisaan ra pir-e kaamil, kaamilaan ra rahnuma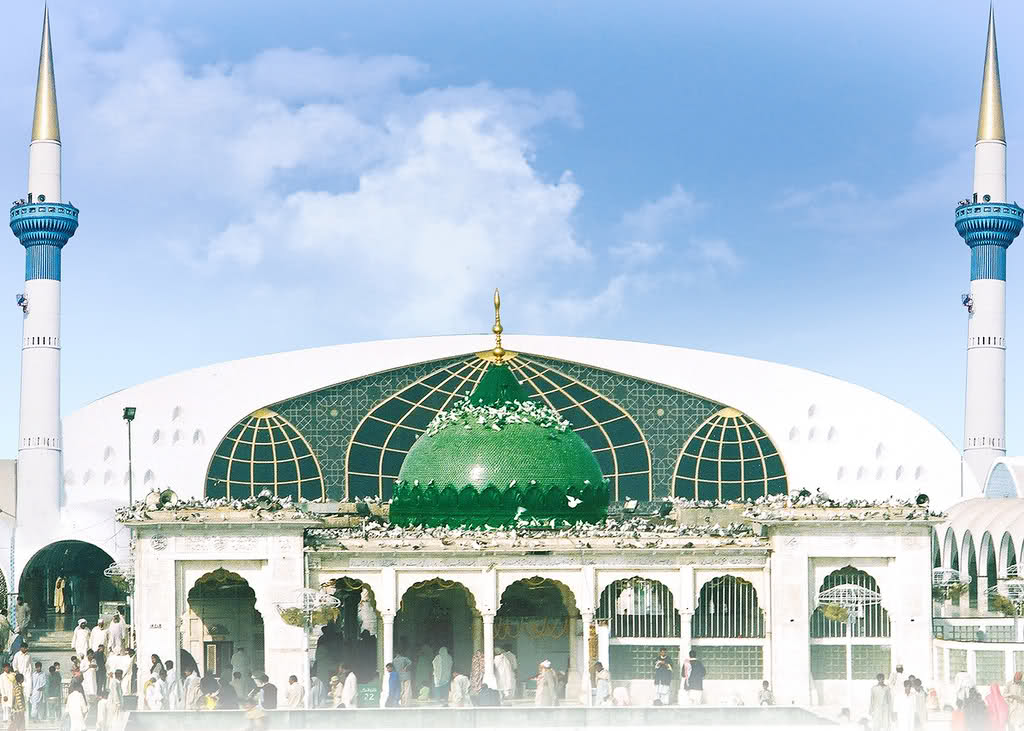 Location
The shrine is located near the Bhati Gate into Lahore's Walled City. It was originally built by the Ghaznavi king Sultan Zakiruddin Ibrahim in the late eleventh century, and has been expanded several times. For centuries his tomb was visited by Muslims and non-Muslims in search of his blessings and people of all religions are welcomed in Data Durbar. Prime Minister Nawaz Sharif is a frequent visitor. On special occasions, the shrine is decorated with lights, dinner is prepared for hundreds of people and visitors dance while musicians play Sufi music for hours. At the boundary of the shrine, Muslim faithfuls recite the Qur'an, and pay tributes to Muhammad.