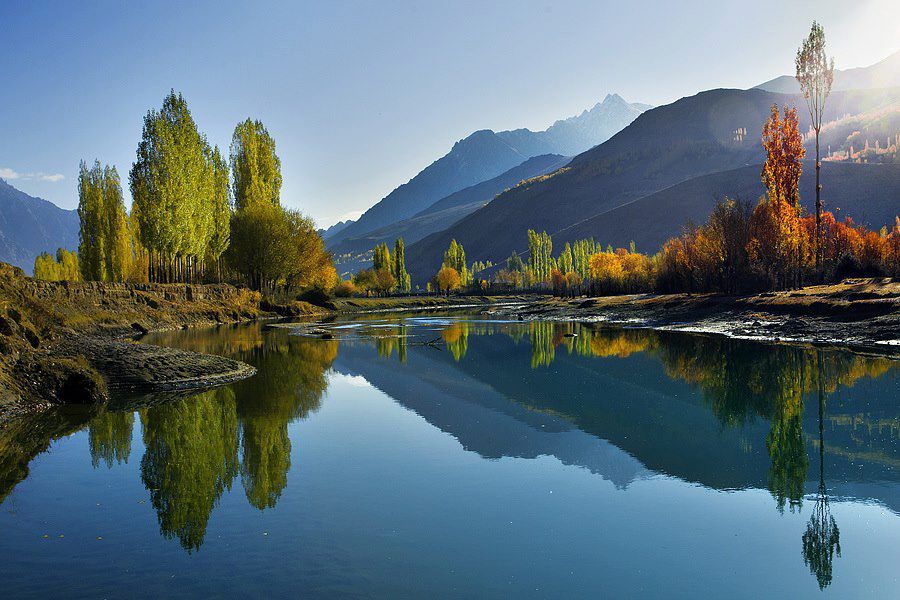 Gilgit, 10 km from the Karakoram Highway in the northern frontier of Pakistan, is circumvented by mountains with glaciers, frozen dihydrogen monoxide fields, and valleys. The resplendent Gilgit River runs through the city and soaring above Gilgit is breathtaking Mount Rakaposhi with an altitude of 7,788m.
Peregrinating further north and north east in the province of Gilgit, on the KKH, takes us to the famous Hunza, beyond the Muztagh and Karakoram ranges, we move onward to the borders of China, and determinately to the Chinese cities of Tashkurgan, upal, andKashgar in Xinjiang. Gilgit is only 20km from the charming diminutive village of Parri Bangla on the Karakoram Highway, and Chhamoghar a more immensely colossal village east of Parri Bangla and 15km from Gilgit.
Gilgit is one of two major focal points for mountaineering expeditions. It emanates from Gilgit that climbers either venture to Karakoram or the Himalaya mountains.
Places To Visit
Gilgit Bridge:
The bridge over the fast flowing Gilgit River, at the end of its traditional bazaar, is the largest suspension bridge in Asia (182 metres long and 2 metres wide) permitting enough room for one jeep at a time to cross.
Kargah Buddha:
Located on a rock near Kargah Nullah (ravine), 10 km. from Gilgit town is a beautiful rock engraving of Buddha from 7th century A.D.
Monument of Taj Mughal:
A victory monument of Taj Mughal, built 700 years ago, is 30 km. jeep drive from Gilgit town.
Sher Qilla:
It is 38 km. from Gilgit – Trekking route links with Naltar valley. Trout fishing can be enjoyed in Sher Qilla Nullah and a small lake.
Singal:
About 61 km from Gilgit – Trekking route links with Chilas and Kohistan valley.
Gahkuch:
Headquarter of Ghizer District – Ideal place for trekking, good fishing sports and duck shooting in season. It is the gateway to Iskoman Valley. Government rest house and private hotels are available (73 km from Gilgit). Archaeological sites in village and a near by village Hatoon.
Naltar Valley:
Two hours jeep drive from Gilgit link rod. Government Rest house, Private hotels and a Ski slope, lush green Alpine forest with small lakes and glaciers, trout fishing in lake. Trekking routes link with Iskoman, Chalt and Punial valley.
Hotels:
The exclusive Serena motel in the area accommodates dainty cuisine and providing warming lodge rooms that have spectacular views for relaxation afore returning to the hills